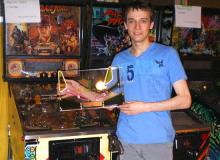 The IFPA is pleased to announce that our Player of the Month for January 2017 is Germain Mariolle from Redmond, WA. Germain earned a total of 110.57 WPPR points in January. This included the following results:
Germain is currently ranked 34th in the world, and 2nd in the Washington SCS.
The rest of the top 5 for the month of January included John Delzoppo from Cleveland, OH with 103.72 WPPR poitns, Keith Elwin from Chicago, IL with 94.60 WPPR points, Steven Bowden from Franklin Township, NJ with 93.18 WPPR points, and Dave Stewart from Carnation, WA with 88.58 WPPR points.
Congratulations to Germain and the other top WPPR point earners of the month!