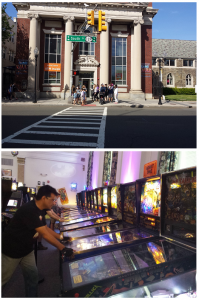 blog post courtesy of Steve Epstein
There is a new place for all gamers to go, the Morristown Game Vault in Morristown New Jersey. The IFPA held a successful 3 day pinball tournament event drawing 60 players from NY, PA, and NJ.
The owner David Balsamin has created a unique space in an old bank. With high ceilings and huge safe vaults there are over 20 pinball machines and 80 vintage video games. These represents just a part of David's collection. After a successful stint as a Pharmacist, David decided to follow his passion and open The Game Vault. With the help of myself, Steve Epstein, Francesco La Rocca and Steven Bowden, an exciting pinball event was created. With the support of Jersey Jack Pinball, Stern Pinball, and Marco Industries we were able to raise $640 for The Leukemia & Lymphoma Society as well as have a $1850 cash prize package for the players. Quite an accomplishment for a first time event.
Plans for future events are being planned. As the IFPA takes strides to advance the  play of pinball we appreciate the passion of people like David who choose to introduce the joy of pinball to a new audience. This is accomplished through taking on the challenge of opening locations and exposing young people to the excitement of pinball. David was able to work with the town and local merchants to open The Vault, where he has attracted patrons with birthday parties, corporate team building, and competitive events for both video and pinball players. Being open just over a year and working up to 80 hours a week, David has reached profitability.
Having operated The Broadway Arcade until it's closing in 1997 and being involved in a new location for 2 years from 2014 to 2016, I see an upswing of interest in pinball. For far too many years locations have not operated pinball and the manufactures survived with sales to collectors and home enthusiasts. Hopefully that trend is changing as new concepts such as Barcades and Pinaball "Museums" open up and attract new players and excite all the people that grew up playing our games. Having had a long career spanning 5 decades, I remain excited with all these possibilities.