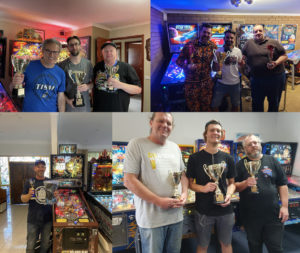 This past Saturday, we saw 112 players right across the country battle it out over 6 hard-fought State/Territory Championship events.
This format was originally intended to be first ran back at the start of 2021, however with the COVID-situation at the time, along with IFPA competition on hiatus, this past weekend was the first attempt at running a similar style event to that of the North American Championship Series.
Not only did the winners of each tournament earn the title and the right to call themselves an IFPA State Pinball Champion, the Top 4 finalists in each State also earned their spot in the Australian Championship, to be held later this year in Brisbane on 6th & 7th May.
We now effectively have our first 24 finalists just about set for the Australian Championship, with the remaining 24 finalists to be invited based on their best 20 results from all Australian IFPA events from 2022. Invitations will be sent out over the coming weeks.
Here at IFPA Australia, we'd like to send our Congratulations to the Top 4 winners from each State Championship as follows:
A.C.T.:
1st – Aaron Draper, 2nd – Paul Chamberlin,  3rd – Shannon Paull, 4th – Tom Lefebure
Full results – https://next.matchplay.events/tournaments/92539/standings
N.S.W.:
1st – Jayson Walsh, 2nd – Aaron Crichton, 3rd – Andrew Gliatis, 4th – Collin Metcalfe
Full results – Currently unavailable
Qld:
1st – Paul Jones, 2nd – Curtis Sahariv, 3rd – Jason Lynch, 4th – Jason Lambert
Full results – https://next.matchplay.events/tournaments/92887/standings
S.A.:
1st – Tom Casey, 2nd – Robert Macauley, 3rd – Ronald Opitz, 4th – Dion Vuurens
Full results – https://next.matchplay.events/tournaments/92407/standings
Vic:
1st – Ryan Cee, 2nd – Richard Rhodes, 3rd – Daniel Luth, 4th – Brodie Dixon
Full results – https://next.matchplay.events/tournaments/92191/standings
W.A.:
1st – Anthony Cirillo, 2nd – Glenn Twiddle, 3rd – Brett Smith, 4th – Brett Paton
Full results – https://next.matchplay.events/tournaments/92794/standings