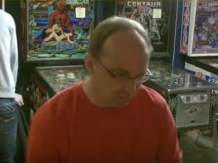 The IFPA is pleased to announce that our Player of the Month for May 2016 is Albert Nomden from the Netherlands. Albert earned a total of 121.64 WPPR points in May. This included the following results:
Albert is currently ranked 33rd in the world and is in the top qualifying position for the 2016-17 ECS.

The rest of the top 5 for the month of May included Trent Augenstein from Delaware, OH with 113.26 WPPR points, Steven Bowden from Franklin Township, NJ with 96.02 WPPR points, Jorian Engelbrektsson from Stockholm, Sweden with 90.74 WPPR points, and Germain Mariolle from Redmond, WA with 87.84 WPPR points.
Congratulations to Albert and the other top WPPR point earners of the month!