The following group of people help run the IFPA and the WPPR Rankings. If you have any questions or would like to speak to a member of the staff, please contact us here.
To contact the IFPA Women's Advisory Board directly, please email us at IFPAWomen@gmail.com.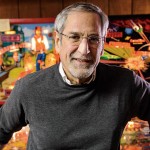 Roger Sharpe
Co-Chairman – IFPA Founder
Roger Sharpe's contributions and impact on the coin-operated amusement game industry have been evident for over 30 years. From his acclaimed book on pinball machines, testifying in New York City to help legalize the games and for 15 years, the Director of Marketing and Licensing for Williams Bally/Midway. He has also spent time designing games, and contributing to many of the coin-op industry trade magazines.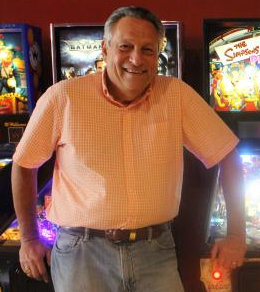 Steven Epstein
*Co-Chairman – IFPA Founder
Steven Epstein's accomplishments are no less impressive as the owner/operator of the world famous Broadway Arcade in New York City for more than 35 years. Epstein also worked with Stern Pinball to promote the company's TOPS tournament pinball system.
Josh Sharpe
President
Josh Sharpe's contributions to competitive pinball started with the creation of the Illini Pinball Association in 1998 on the University of Illinois Urbana-Champaign campus. From there Josh created the PinBrawl World Team Pinball Championships, held at Pinball Expo in Chicago for several years and now held at the Michigan Pinball Expo. In the Spring of 2006, with the help of many players and enthusiasts, Josh created the World Pinball Player Rankings and resurrected the defunct International Flipper Pinball Association.
Zach Sharpe
Vice President
Zach Sharpe took over the Illini Pinball Association in 2002, and has overseen its continuance even after he has left the campus. Since 2017, Zach has been the Director of Marketing at Stern Pinball. He has been an integral part in the continuing promotion of competitive pinball to the player community. Zach is responsible for all of the IFPA/Stern campaigns as well as all of the IFPA related media outreach.

Adam Becker
Director
Adam Becker started with the IFPA as Canadian Country Director back in 2012 and has now transitioned into a larger role within the IFPA organization. As IFPA Director, Adam is responsible for approving all calendar submissions and results submission. He also serves as tournament director for any IFPA corporate events that he is able to attend.
Olivia Helm
Director
Olivia Helm and her wife Kayden got into pinball in 2016 when they decided their home arcade needed pinball noises in it. Since then, they've been repairing, restoring, and customizing machines while participating in tournaments and serving as backup tournament directors and scorekeepers for various competitive events as often as three times per week. They also frequently host pinball- and arcade-related events at their home arcade and assist other members of the community with repair and restoration. Olivia is from Chandler, Arizona, and is a regular participant in Phoenix Belles & Chimes and Tilt Studio Tempe Pinball League.
Karyn Kiser
Director
Karyn Kiser found pinball in Lyons, Colorado, in 2009. Since that time, she's remained active in pinball communities around the world while living in the United States, Japan, and (currently) Sweden. Karyn believes that individual tournament directors play the greatest role in shaping the culture of competitive pinball in their corners of the hobby. Her work within the IFPA will focus on initiatives to support tournament directors in approaching that role. She is a former IFPA Women's World Champion.
Kim Martinez
Director
Kim Martinez was thrust into the pinball scene in 2016 when she was asked to run the Level One Silverball League at Level One Bar + Arcade in Columbus, Ohio. With years of experience playing in and directing tournaments and leagues (including the 2019 Ohio Show Women's Tournament and the first Women's Royal Rumble of the Cleveland Pinball and Arcade Expo), Kim aims to change the landscape of tournament organizing by building strong resources for up-and-coming organizers.
Denise Roy
Chief People Officer
Denise is a People and Culture professional, with over 20 years of experience in Human Resources management. She currently holds the roles of Vice President of People and Culture at a Software firm in Toronto and Professor of Human Resources at a number of distinguished private and public colleges in Canada. She holds a variety of academic degrees, including a Master of Human Resources Management. In addition to her work with IFPA, she is an active volunteer in her community, supporting numerous initiatives that focus on historical preservation, animal activism and community youth support.
Juana Summers
Director
Juana Summers has been playing competitive pinball since 2015, and got her start organizing and running competitive events in 2018. She helps run the Holy Frijoles Pinball League and is the scorekeeping director for the annual Pinbaltimore Pinball Festival and Tournament, which are both based in Baltimore, Maryland. She is also the founder of Belles & Chimes Baltimore. Juana is originally from Kansas City, Missouri, and hopes that by virtue of her aggressive work travel schedule, she'll one day be able to say she's played a tournament in every state in the US.
Zoe Vrabel
Director
Zoe Vrabel has been playing in and running competitive pinball events since 2009. She currently serves as an IFPA State Representative for the state of Oregon and co-runs Flip City Pinball in Portland, Oregon. In 2015, she represented Oregon at the first IFPA National Championship, and in 2016 she followed up by winning the first IFPA Women's World Championship. She helps moderate Tilt Forums and feels strongly that intentional community management, both online and in person, is key to developing strong and inclusive pinball communities worldwide.
Anna Wolk
Director
Anna Wolk began playing competitive pinball in 2013 when she discovered the Pinball NYC team league at her Brooklyn neighborhood bar. Reluctant to join a team (and hobby) overrun by gamer dudes, she formed the league's first all-female team, The Pinbabes. She later founded the NYC chapter of Belles & Chimes, one of the first outside its birthplace of Oakland, California. Future goals include turning her daughter into a pinball player so they can qualify together for the Women's World Championships, and finally scoring a Super Jackpot on Creature from the Black Lagoon.
Brian Woodard
Commissioner
Brian Woodard took over the Illini Pinball Association in 2005, and continues to serve as the association's President. As IFPA Commissioner, Brian is responsible for implementing the policies set forth by the IFPA, recommending policy changes and action to the President and Vice President as appropriate, and acting as a liason between the player base and IFPA staff. Brian is also the ultimate authority in handling all rulings and malfunctions at any tournament directly run by the IFPA, including the IFPA World Pinball Championship.
The IFPA also has a staff of Country Directors that help local players with tournaments, rules or general questions. Please visit here to view them.

*Deceased