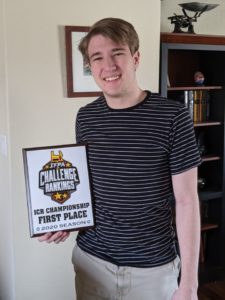 Over the weekend the finals of the first season of the IFPA ICR Pinball Championship were held between 44th seed Zach Frey and 14th seed Escher Lefkoff. Both Zach and Escher played a 3-game ticket that was judged by Zoe Vrabel, Karl DeAngelo and Josh Sharpe.
Escher entered ball 3 of the final game on Iron Maiden Premium under 200 million points, with a projected target of at least 500 million points for the judges to begin entertaining the idea of giving Escher's ticket the win. Escher played a solid Cyborg Multiball to take him over the top, and eventually drained out at over 1 billion points. All 3 judges voted unanimously to give the win to Escher.
For full details on the ICR, please click HERE.
To join the IFPA ICR Group on Facebook click HERE.
To join our IFPA ICR Discord click HERE and connect with other players to organize IFPA Challenge Matches.