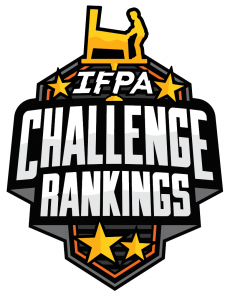 The IFPA is proud to announce the implementation of the IFPA Challenge Rankings (ICR) for all players. In partnership with MatchPlay.Events, the ICR will be based on the results of official IFPA Challenge Matches held between any two players around the world. Through the results of these official IFPA Challenge Matches, we will be calculating a player's ranking within the ICR.
The 3rd Quarter 2021 season is in progress.
Current standings can be found HERE.
We encourage players to get creative with IFPA Challenge Matches, playing both at home with their family members and by connecting with other pinball players from around the world to compete remotely using platforms like Discord, Twitch, Zoom, FaceTime, and Skype.
Players are welcome to play as many games as they want against any opponent. We accept a wide range of formats, from a standard 3-ball game to speed running to playing different titles and comparing scores as best as you can. As long as both players agree to the challenge, we'll accept it!
In order to provide a competitive alternative while we aren't sanctioning events for WPPR points, the IFPA will be running the IFPA Challenge Rankings Championship. The top 32 eligible players in the ICR as of October 1, 2021, will advance to the Championship Finals. The IFPA will be funding the ICR Championship prize pool with $1 for every player ranked in the ICR up to $1000.
HOW TO PLAY IFPA CHALLENGE MATCHES?
MatchPlay.Events will handle the submission of these IFPA Challenge Matches. Visit here to learn more: https://matchplay.events/handbook/challenge-matches
Connect with other players from around the world at our ICR Discord channel and Facebook Group:
https://discord.gg/AbQZMD5
https://www.facebook.com/groups/574603623445327/
We welcome players to add to the ICR Challenge Match Collections spreadsheet here:
https://docs.google.com/spreadsheets/d/1ywtTX4s7v7vo3xUP4D9E4wz628FW7P9JrCNn9TQ2QuY/edit#gid=0
Both players will need a MatchPlay.Events account for the match to be recorded and count towards the ICR Standings.
HOW IS THE ICR CALCULATED?
Using the MP Ratings metric (Lower Bound) at the time of the match, players will be divided into 5 Tiers:
Tier 1 –> Ratings of 1700+
Tier 2 –> Ratings of 1650-1699
Tier 3 –> Ratings of 1600-1649
Tier 4 –> Ratings of 1550-1599
Tier 5 –> Ratings of <1550
We will be looking at the following data to determine a player's ICR:
1) Number of Challenge Match WINS from each Tier (valued at 25-15-10-5-1 per win in each of the 5 Tiers)
2) The winning percentage from all matches played against players within those different Tiers (this is multiplied by the ICR points earned within each Tier)
3) Number of Unique Opponents (this is multiplied at 1% per unique opponent played, up to 100% for anyone that has played 100+ opponents)
ICR CHAMPIONSHIP DETAILS
• Top 32 eligible players ranked in the ICR as of October 1, 2021 will advance to the finals. No alternates will be selected. Any players that end up not participating in finals will simply forfeit the match they are scheduled to play within the bracket.
• Championship will be a best-of-3 single elimination tournament.
• Players will have 1 week to play their match, or both players will be eliminated from the Championship bracket.
• IFPA will be adding $1 to the prize pool per participant, up to a maximum of $1000. The top 4 finishers will receive cash.