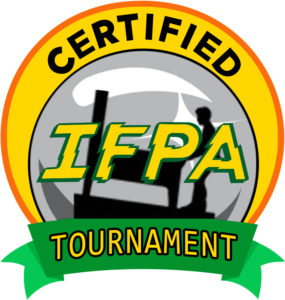 Since the release of WPPR v5.6 for the 2020 season, the IFPA has continued investigating ways to make the World Pinball Player Rankings more accurate for how we rank players across the globe.
These latest changes will be incorporated into WPPR v5.7 which will be implemented starting January 1, 2022.
While the IFPA sanctions nearly 8000 events per year, WPPR v5.7 will introduce the concept of IFPA Certified tournaments. A tournament needs to meet the following criteria in order to be eligible for certification:
Tournament must have 64 or more rated players that participate.
The tournament needs to have a dedicated qualifying portion and then take a minimum of 16 players into a separate finals portion.
No player may receive a bye beyond the round of 16 finalists.
Qualifying portion of the tournament must consist of the following:

For events with LIMITED qualifying – a minimum of 12 actual meaningful games played.
For events with UNLIMITED qualifying – a minimum of 5 meaningful games played, plus a minimum of 20 hours of qualifying time available.

Finals portion of the tournament must consist of one of the following approved formats:

PAPA style match play rounds (minimum of 3 games per round).
IFPA style head-to-head play (minimum best of 5 matches per round).

Maximum length of the tournament is 4 consecutive days.
Finals for the top 16 cannot start on the same day that Qualifying starts.
All IFPA sanctioned tournaments that meet this criteria will be eligible for certification. All IFPA Certified tournaments will receive a 20% boost to the WPPR points awarded. Tournament directors can apply to have their tournament certified by emailing the IFPA after their event has been sanctioned.
Please don't hesitate to contact us at ifpapinball@gmail.com with any questions. Check back when we announce that WPPR v5.7 has been implemented for 2022 as details are subject to change prior to launch.