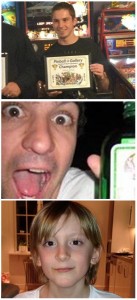 The IFPA is pleased to announce that the following players saw the biggest jump in their world ranking based on their November 2013 tournament performance.
The biggest movers for November 2013 included [player]Layne Sandt[/player] from Easton, PA, who moved up 10,151 spots by finishing in 1st place at the November Pinball Gallery Monthly Tournament, as well as 5th place at the Black Friday Pinball Tournament. This netted Layne 4.27 WPPR points and moved him up to a rank of 3218th in the world.
[player]Nathan Patterson[/player] from Lenexa, KS moved up 9064 spots from his 11th and 7th place finishes at the Shawnee Pinball OpenMain and Classics tournaments respectively. In total, Nathan earned 3.43 WPPR points from these performances, which has moved him up to a rank of 3990th in the world.
[player]Felix Holm[/player] from Stockholm, Sweden moved up 6630 spots by earning 2.13 WPPR points from his 111th place finish at the 2013 Swedish Championships. This moved Felix into now being the 5347th ranked player in the world.
Congratulations to Layne, Nathan and Felix, as well as the other players that saw a jump in their ranking from their November tournament performance!