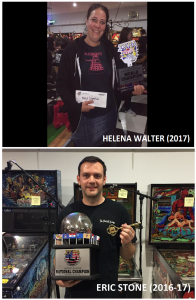 16 finalists for the Women's World Pinball Championship, along with 40 finalists for the US National Pinball Championship began competing at 10am and continued nonstop until nearly midnight when the winners were crowned.
Huge congratulations to the new Women's World Pinball Champion Helena Walter from Sweden. She went 16-5 in her four rounds of play on her way to the championship.
The new US National Pinball Champion is Eric Stone from Florida. Eric compiled a 20-1 record defeating the representatives from Washington, Massachusetts, Michigan, Oregon and Illinois to capture the crown.
Congrats to Helena and Eric! They have been added to the IFPA Hall of Fame!
Brackets for the championships can be found here:
WOMENS –> http://challonge.com/2017IFPAWomenChampionships
NATIONALS –> http://challonge.com/2017IFPANationals