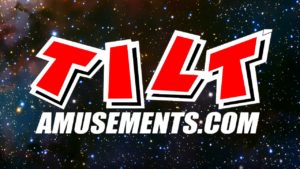 sponsored blog post
We here at Tilt Amusements love selling pinball machines (Stern in particular!) and we have exciting news – Troy Smith, long known for excellence in the pinball and amusement business, is coming on board as our new Director of Sales and Marketing!  A successful coin-op industry entrepreneur in his own right, Troy's industriousness, integrity, and endless commitment to hard work have made him a successful purveyor of pinballs and arcades for over 20 years, during which time he has built a reputation for taking exceptional care of his customers.  His experience and expertise will be a great compliment to everything we strive to do right here at Tilt Amusements.  Having known and worked with Troy for over 10 years, I couldn't be more excited to have him with us.
Troy will be spearheading many aspects of the business going forward, including increasing Stern pinball machine and parts sales, improving service, and boosting Tilt Amusements' social media presence.  With Troy on board we also plan on ramping up our visibility at shows and putting more energy and focus into the burgeoning arcade bar scene, as we continue supporting the growth of pinball.  I will be working side by side with Troy as he learns the ropes and gets to know Tilt's customer base.
Come see us at a show this year; we kick off the season with a booth at Pinbrew Fest! (Girard, OH, April 8-10 
www.pinbrewfest.com
)  Drop by the booth and say hello to Troy, and you can usually find me in the tournament area.  Looking forward to seeing everyone again!  
tiltamusements.com
sternpinball.com