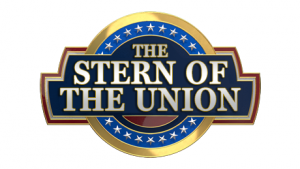 Sponsored blog post courtesy of Stern Pinball
The Stern of the Union Address will be on the first Tuesday of every month (holiday and vacation pending!). To read the full recap, please visit – http://www.sternpinball.com/…/stern-of-the-union-address-oc…
Here are a few highlights:
– 34th Pinball Expo which can only mean an official Stern Pro Circuit event, official Stern Factory tour, lots of seminars and the Stern-O-Rama party! Free beer and DJ courtesy of Logan Arcade, IFPA – International Flipper Pinball Association Deadpool pinball tournament with a chance to meet the entire design team, all hosted by none other than Dead Flip : Pinball Streaming Jack Danger!
– The Stern Army continues to grow with members spreading the word of pinball across the globe. Welcome Private Katie Schowengerdt of Missouri (Two Plumbers Brewery + Arcade), Private Mike Lund of Utah (Kiito's Brewery and Quarters Arcade Bar), Private EJ Osis of Michigan (Offworld Arcade) and Private Evan Williams of Michigan (Pinball Pete's).
Congratulations to the following Stern Army members on their promotion from Private to Private First Class. Private First Class Neil Shelton of Colorado (Wonderland Brewing Company), Private First Class Brian Dye of West Virginia (Fallout Shelter), and Private First Class Josh Noble of Missouri (Silverball)
For more information or to become a part of the Stern Army, please reach out to SternArmy@sternpinball.com
– Stern Army Iron Maiden Legacy of the Beast Tournament! Stern Pinball, Iron Maiden and the International Flipper Pinball Association are teaming up to sponsor a Stern Army High-Score Tournament on Iron Maiden Pro, Premium and LE pinball machines. Players can enter by participating in any IFPA-sanctioned Stern Army events that include Iron Maiden in the tournament. For full details on this exciting tournament visit – https://www.ifpapinball.com/maiden/
– Congrats to Keith Elwin for winning the Cleveland Pinball & Arcade Show and to Raymond Davidson for winning the Vancouver Flipout Stern Pro Circuit events! The next Stern Pro Circuit events will be the Pinball Expo Flip Out Tournament (October 18-21), Pittsburgh Pinball Open 9Pittsburgh Pinball Open (October 25-28), the Danish Pinball Open 2018 -Stern Pro Circuit (October 27-28), and the 24 Hour Final Battle at the Sanctum (November 3-4).
With only 7 events left on the 2018 Stern Pro Circuit calendar, who will be the 40 finalists competing in the Stern Pro Circuit final next March? For full details on the Stern Pro Circuit and to keep up with the current standings, please visit – https://www.ifpapinball.com/circuit/
– This month's Stern Spotlight featuring Carson Gunby!