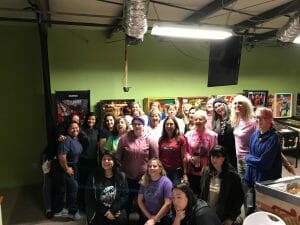 blog post courtesy of David Denholtz
This past 
Friday
 night, January 26th, 
The Pinball Asylum
 in Fort Myers, Florida hosted its first-ever Women's Division IFPA Pinball Tournament.  The 3-Strikes tournament was an amazing success, and was extraordinary for a number of reasons.
The tournament—  ably directed by our own Asylum "Inmate" Ceil Beagle— was the largest Women's Division Tournament ever held in the state of Florida with 23 players.
Players ranged in age from 15 to 75, making it perhaps the widest array of ages and skill sets The Pinball Asylum has ever seen in any tournament.
Players included Holly Danowski from Connecticut,  the current 24th world-ranked woman player in the IFPA, and most of the best women players in the state of Florida.
The winner of the Women's Tournament was our long-time "Inmate" Staci Webb, who was not only playing in her first ever IFPA tournament, but who took no strikes in ten rounds. She finally won on the twelfth round after getting two strikes. We always knew that Staci was amazing player, even though she had to be coerced into competing by her fellow Inmates.
Our second place player, Gwyneth Austin, was also the youngest player at 15 years old. She and her dad Mitchell are regulars at The Pinball Asylum, and great players both.
Maritza Chirichigno, a third season Asylum Inmates League player, took third in a very well-fought series of matches.  Holly Danowski, visiting from Connecticut, played extremely well, and took fourth.
In an elegant and humorous touch, as players dropped out, they were served champagne on a silver tray by one of The Asylum's male board members.
Overall, it was a very well-attended, very well-run tournament that had perhaps the biggest group of spectators The Asylum has ever seen for the last few finals matches.  You can find Facebook Live videos with commentary by 
IFPA US National Champ Eric Stone
 that were 
recorded live at the event.  
(
https://www.facebook.com/groups/TheAsylumInmatesPinballLeague
)
.
Women's pinball is definitely on the move, and The Pinball Asylum aims to be part of it!  Keep a look out for more Women's tourneys at The Pinball Asylum in 2018.