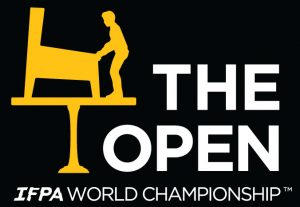 While pinball has had many prestigious events over the years, whether it was the Pinball Expo Flip-Out tournaments of the '90s, Pinburgh of the early '00s, and the Doubles and Team events held at the IFPA and PAPA World Championships of the '90s, the IFPA has limited what we consider the current Major Championships of our sport. These Majors include the IFPA World Pinball Championship, PAPA World Pinball Championships, European Pinball Championships and Pinburgh Match Play Championship . . . until today!
The IFPA is excited to announce the addition of a 5th Major Championship to the tournament calendar – The Open IFPA World Championship™.
With the existing IFPA World Pinball Championship using the World Pinball Player Rankings process to qualify players, we have been interested in bringing the opportunity for anyone to earn the "World Pinball Champion" title in a true open-to-all event. It's with that The Open was created.
The IFPA is excited to partner with It Never Drains in Southern California (INDISC) to make this new World Pinball Championship event possible.
Below is a message from Karl DeAngelo of INDISC on this new IFPA/INDISC partnership:
"We are thrilled to host The Open IFPA World Championship™, replacing our Main tournament division, beginning with INDISC™ 2020. The Open will continue the same tradition of excellence players have come to expect from the INDISC team while creating a new World Championship event not to be missed. Our partnership with the IFPA will also bring requested enhancements to the INDISC tournament experience. In addition to The Open, players can compete in High Stakes, Women's Championship, Classics I/II, Kids, Seniors, and debuting with The Open for 2020, a Classics Target Match Play Championship. We look forward to greeting all returning players and fresh faces travelling to Southern California for the first time, January 9-12, 2020 for INDISC 2020 and The Open."
Details on those enhancements that players can expect at The Open/INDISC 2020 will be shared soon!
April 2nd update: 
We have received numerous emails today asking whether this announcement was an April 1st joke, or if it's another one of our sick and twisted "true announcements" on April 1st. To clarify, this announcement is 100% true. We couldn't be more excited to partner up with the INDISC staff on making THE OPEN a World Pinball Championship not to be missed for years and years to come. More prizes! More 1099's! More WPPR's! More chances to win a World Champion title!