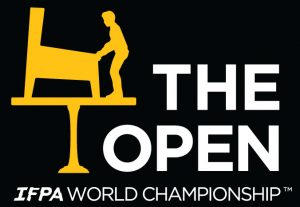 'THE OPEN' IFPA World Championship will be held February 3-6, 2022 at The Riverside Convention Center in Riverside, CA as part of the 10th annual "It Never Drains in South California Pinball Tournament".
The Riverside Convention Center is located within convenient walking distance of many hotels and restaurants, including INDISC sponsor Riverside Food Lab, making it an ideal location for out of town visitors. Riverside, CA is also served by 7 commercial airports within 100 miles driving distance and there's ample public parking in the downtown area for those who plan to commute in.
Returning INDISC Tournament Divisions:
– The Open IFPA World Championships (IFPA Major & IFPA Certified Tournament)
– Classics Target Match Play Championship (120 player maximum)
– Classics I
– Classics II
– Women's Championship (IFPA Certified Tournament)
– High Stakes (IFPA Certified Tournament)
– Seniors
– Kids
Both Women's and High Stakes are moving to 5-game cards to become IFPA Certified Tournaments. Also, the Women's Championship will be held on a dedicated bank of games this year!
IFPA is once again providing a brand new Stern Premium Pinball Machine to the winner of The Open! INDISC 2020's prize pool was over $50,000 in cash and prizes!
Join the official INDISC Discord! https://discord.gg/6es73MQS
Additional information can be found on our website at www.indisc.com. Tickets will be available for purchase soon.
INDISC 2022 Video Announcement HERE.