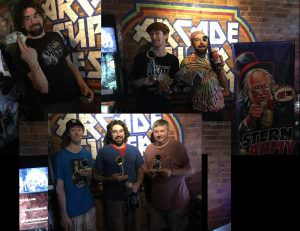 blog post courtesy of John Geiger
Our friend, and long time league member Aaron received some devastating news this past week. After a period of not feeling well, he has been diagnosed with a very aggressive form of brain cancer.
Aaron has had a huge, positive impact on our pinball family since we started. He came in and practiced regularly, putting his name up on nearly every machine in town. He was consistently in our top division after only playing competitively for a short time. He has travelled throughout Ohio to tournaments and expos, making new friends wherever he goes, always sharing his techniques and enthusiasm with other players. His vibrant personality and overall positivity and kindness are part of the fabric of our pinball community.
We are donating our league dues and tournament fees to help him in his fight against cancer.  His family has set up a Go Fund Me. If you can, please read his story and possibly contribute to helping a fellow pinballer face an incredibly difficult situation.