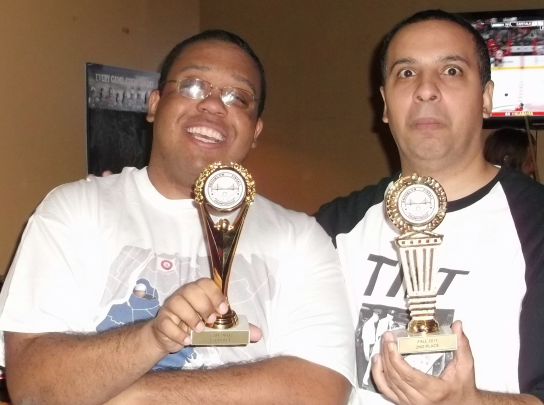 The 3rd Brooklyn Pinball Championship for the Fall 2011 took place in Williamsburg at 4th Down Sports Bar home also of the Brooklyn League.
17 players played on 4 machines: Avatar and World Cup Soccer (owned by Francesco ) – WWF Royal Rumble and Mars Trek (special thanks to Steve Marsh and Joseph Hofler for bringing those 2 last machines ).
It was single elimination with 1 extra round played at begin where winner would have play then the top seed of tourney Steven Bowden. Every round all pairings where randomly picked as it was the 1st game played, then the loser had choice of game or order. 1st round was 5 best out of 9 with very intense matches!
After couple of hours 8 players advanced to round 2 and played best 3 out 5.
Round 3 started at around 10 pm with 4 players that made to the semifinals. Alberto Santana beated Francesco La Rocca (organizer and New Brooklyn Champion ) 3-2 while Steven Bowden defeated Jon Ehrlich.
An extra match (3 out of 5) was played also between Penni Epstein and Dahlia Rowan to decide the Brooklyn Woman Champion and Penni came out winner and to decide the 3rd place for money where Jon defeated Francesco! The final ended up with a superscore of Steven Bowden on World Cup Soccer that gave him the 3rd win vs the 1 of Alberto Santana. The top 4 players all got trophies and top 3 also money! All other participants received a medal.
Was truly a great night of pinball!
Final Tournament results are here.[nggallery id=2]