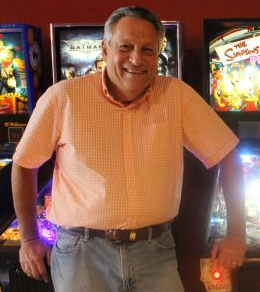 As some of you may already know, Steve has begun the fight of his life against an aggressive cancer. As a resource for Steve, I wanted to use this platform as a place for people to share their stories on how Steve has impacted their lives, but just as important how competitive pinball has impacted your lives. Without Steve Epstein, competitive pinball wouldn't be "a thing".
It's easy for me to point to my dad meeting my mom as the most important relationship that formed in my lifetime. That relationship gave me life. Right behind that would be the importance of my dad and Steve meeting all those years ago. That relationship gave my life meaning.
The bond they formed through their common love of pinball lead to the idea that it could be viewed as a legitimate form of competition. The impact that idea had on my life is immeasurable. I wake up every day thinking about what I can do to help spread that love of competitive pinball to as many people as I can reach. That passion is directly linked to how Steve approached his daily relationship with competitive pinball from the Broadway Arcade days, to the creation of PAPA, to the creation of IFPA. This continued into 2020 with Steve recently joining the Project Pinball Charity team.
I can remember sitting with my dad and Steve at dinner back at Pinball Expo 2005. We talked about the potential re-launch of the IFPA (which ended up happening a few months after that dinner conversation). We talked about the idea of being able to grow this player base of 500 players to over 1000 players as one of our biggest goals, with the WPPR system being the catalyst to motivate that growth. As I sit here 14 years later, looking at the number of 78,870 ranked players in our system, it's clear to me that the legacy of what my dad and Steve set out to do all those years ago will continue to live on for generations to come.
My thoughts and prayers to Steve, Sondy, Dale, Erica and the rest of the Epstein family as they begin this fight. The Sharpe family wouldn't be what it is today without all of you.
For anyone that has similar stories to share, we welcome that through our website comments. We will be sharing this directly with Steve as he begins his fight.