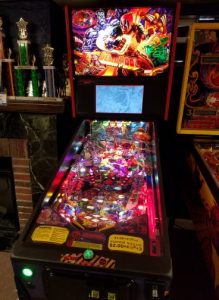 Nick Lane out of Buffalo, NY finished 2018 as the 729th ranked pinball player in the world. This qualified him for the Stern Rewards Program for finishing the year ranked in the top 1000. The rewards program allows qualifiers to purchase a brand new Stern pinball machine at a special IFPA price. Nick redeemed his reward for a Deadpool Pro.
So far in 2019, Nick has participated in 8 IFPA sanctioned events and is currently ranked 1026th in the world.
Congratulations to Nick, and remember if you're interested in qualifying for the Stern Rewards Program, check out the rules here.