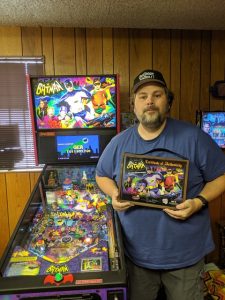 In November 2018, Gerald Kirchner out of Lakewood, CA moved himself up 25,721 spots up the World Pinball Player Rankings. This earned him a "Biggest Mover" award and qualified him for the Stern Rewards Program. The rewards program allows qualifiers to purchase a brand new Stern pinball machine at a special IFPA price. Gerald redeemed his reward for a Batman 66 Premium.
Since November 2018, Gerald has played in 32 more IFPA sanctioned events, moving himself up from 8002nd to 1085th in the world.
Congratulations to Gerald, and remember if you're interested in qualifying for the Stern Rewards Program, check out the rules here. A reminder for anyone with a 2018 reward, you have until 12/31/19 to redeem it before it expires.