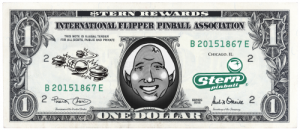 With the State of Illinois under a stay-at-home order, we've been getting a bunch of questions about the availability of games under the Stern Rewards Program. We figured it was easiest to post an update.
For anyone interested in redeeming their reward for something they can get immediately, here's the current list of games available for immediate delivery through the program:
Star Wars Pin
Stranger Things pro
Stranger Things Premium
Black Knight Premium
Munsters Pro
Beatles Gold
Detailed rules for the Stern Rewards Program, including an updated list of qualifiers, and updated list of rewards available can be found HERE.