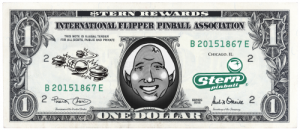 Just a reminder for anyone eligible to claim their $tern Reward, the deadline is December 31st, 2021 for anyone with a 2020 reward available.
The $tern Rewards Program provides IFPA players who qualify the chance to purchase one new Stern Pinball, Inc. (SPI) pinball game directly from SPI at the IFPA Price plus shipping and any applicable taxes. All sales are subject to SPI's standard terms of sale. Game selection is subject to availability, and no guarantee is made that any particular game will be available.
Qualifying participants will also be eligible for discounts at the Stern online store which features a wide range of Stern and $tern Rewards Program merchandise exclusive to the IFPA rewards program.
Detailed rules for the $tern Rewards Program, including an updated list of qualifiers, and updated list of rewards available can be found HERE. Contact the IFPA at ifpapinball@gmail.com if you have any questions.