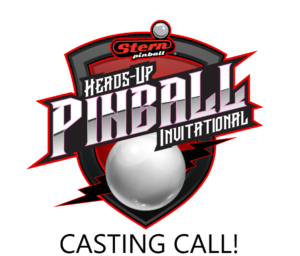 sponsored blog post
Stern Pinball is calling all pinheads, flippers and pinball enthusiasts!
As Stern moves forward with future Stern Heads-Up Pinball Invitationals (SHUPI), they are looking for the best and the brightest to come and compete on their show and they have extended this opportunity to the IFPA player base.
If you are ready to share why you should be a contestant on a future SHUPI, upload a video HERE.
Submission Guidelines:
Please submit a tape 3-5 minutes in length. No need to edit or add music, we are just looking for your amazing personality to come through on raw footage. We want to showcase the diverse stories of the pinball community and encourage pinballers of all backgrounds to apply.
IMPORTANT: At the beginning of the tape, please hold up a piece of paper that can be easily read through the camera with the following information: your name, your age, your city, your email address and your phone number. We recommend printing out a piece of paper with this information typed in large font. Please also start off your tape by saying these items aloud. If we don't know how to contact you, we can't cast you!
Show us your life! Show us your machines! What does pinball mean to you? How is it a part of your life? How has it affected your life? What does your family, loved ones, friends and coworkers think about your flipper lifestyle? Why do you think you should be on this show?