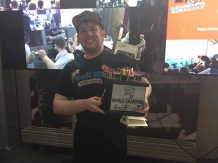 The IFPA is proud to announce that Raymond Davidson has finished at #1 on the World Pinball Player Rankings, thus earning IFPA's top honor as the 2020 "World's Greatest Pinball Player". No single tournament victory will ever secure this title for a given year. Only consistent play at the highest level over the course of multiple years leads to players reaching the pinnacle of the World Pinball Player Rankings. This is the 2nd time that Raymond has been crowned the World's Greatest Pinball Player and one of five players in history to receive this award (Keith Elwin (7), Jorian Engelbrektsson (3), Zach Sharpe (2) and Johannes Ostermeier (1) being the other four).
While the 2020 season ended up being less than 3 months long, Raymond was still able to play in 8 IFPA sanctioned events during this season, with 6 of those events hitting his top 20 IFPA resume. His greatest achievement of 2020 was his 5th place finish at The Open – IFPA World Championship. He also finished in 4th place at both IFPA Pin-Masters as well as the IFPA North American Pinball Championship.
Congratulations to Raymond, and best of luck to everyone once we're able to once again sanction competitive pinball events around the globe. Raymond will receive his WGPP trophy at the IFPA17 World Pinball Championship in Florida in November (depending on us getting through the pandemic).