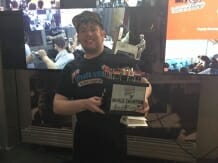 This weekend marked the 1-year anniversary of the PAPA 20 World Pinball Championships. That week Zach Sharpe earned himself 352.28 WPPR points solidifying his world No. 1 ranking position for the remainder of 2017. The time has come where the WPPR points earned at all of the PAPA 20 events have dropped in value by 25%, which in Zach's case was a drop of nearly 90 WPPR points.
Between that and the stellar start in 2018 for Raymond Davidson, Raymond has reached the No. 1 spot in the World Pinball Player Rankings for the first time. Already in the first quarter of 2018, Raymond has chalked up victories at the IFPA US Nationals and the INDISC Classic tournament, as well as a 7th place finish in the INDISC Main tournament.
The race the rest of the year to see who will capture that No. 1 spot at year end and claim the title of "World's Greatest Pinball Player" should be a great one. While there is no PAPA 21 scheduled for 2018, Raymond as well as Zach Sharpe and Cayle George will all be in attendance at both IFPA15 and Pinburgh 2018.
Best of luck the rest of the season, and congrats to the Bone Collector for this achievement.