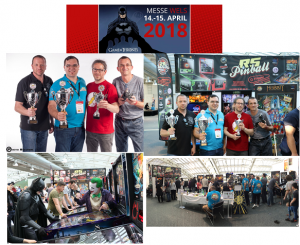 blog post courtesy of Stefan Riedler
On 8th and 9th April 2017 the Comic Con Austria (CCA) was held at the Design Center in Linz, Austria. Far more than 10.000 visitors enjoyed the weekend with different stars like Michael Cudlitz and Tim Proctor from Walking Dead or Jeremy Bulloch and Peter Roy from Star Wars. A lot of different Comic Artists has been present there as well as the DeLorean from back to the future or a lot of different Comic and TV Series related shops.
The brand-new Pinball machines from Heighway Pinball – Alien, JJP – Dialed In and Stern – Aerosmith has been presented there as well. Alongside has been also a great lineup for the Comic Convention like X-Men, Batman, Spiderman, Ghostbusters as well as Walking Dead, Full Throttle and Hobbit. So overall 10 Pinball machines has been setup on free play for the whole weekend and all of the visitors enjoyed it.
The 1st and not the last CCA Pinball Tournament was been held and organized by RS-Pinball e.U. in combination with the 3 Austrian Pinball Clubs (Flippnic, Kugelklopfa and Flipper-SV)
The winner of the tournaments are:
Place Stefan Riedler (League Grenzbereich – Flipper-SV, Flippnic, Kugelklopfa)
Place Rainer Mühlböck (League Mühlviertel- (Kugelklopfa, Flipper-SV)
Place Stefan Karlhuber (League Grenzbereich – Flipper-SV)
Place Uwe Ramsner (League Grenzbereich & Mühlviertel – Kugelklopfa)
Overall the event was a big success and promotion for Pinball as sports and we are looking forward to next year's event which is planned to be even much bigger.
The Comic Convention will be held next time in Wels (AT) during 14th and 15th April 2018 in an even bigger Exhibition area, where more pinballs can be set up and where the 2nd CCA Pinball Tournament will be held. Maybe a special Batman Tournament will be done, because next years main topic is Batman.
Links:
Flippnic                 https://flippnic.at/
Kugelklopfa        http://www.kugelklopfa.at/
Flipper-sv            http://www.flipper-sv.at/
RS-Pinball e.U.  http://www.rs-pinball.at/