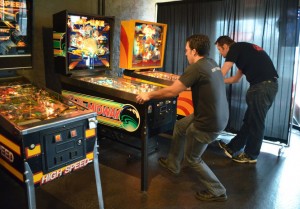 In the ongoing coverage of the Rose City Showdown out in the Portland, The Oregonian has an article that was released over the weekend. The Rose City Showdown is one of the nearly 350 annual IFPA endorsed tournaments where players can earn World Pinball Player Rankings points, and qualify for the IFPA World Pinball Championship.
Featured in the article is 58th ranked [player]Aaron Nelson[/player], 43rd ranked [player]Adam Lefkoff[/player], 457th ranked [player]Kevin Kerr[/player] and the world's current #1 player [player]Keith Elwin[/player]. Additional players mentioned in pictures from the article include 423rd ranked [player]John Fujita[/player] and 34th ranked [player]Eden Stamm[/player]. Aaron, Adam, Keith and Eden are 4 of the 64 qualifiers for the upcoming World Pinball Championship, June 8th-10th outside of Seattle, WA.
To read the entire article click HERE. To read more about the Rose City Showdown, including full results, click HERE.