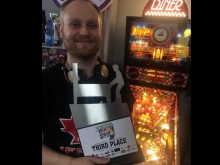 With IFPA sanctioning resuming in August 2021, we saw a new player move into the top spot. Congratulations to Peter Andersen!
When the IFPA suspended sanctioning in March 2020, Raymond Davidson was our top ranked player with 1146.08 WPPR points. Over the next year, with no new events held and older results decaying, many players saw their ranking fluctuate. With the return to action, Peter Andersen of Denmark played in one event in August 2021, picking up a first place finish at LPA Månadstävling worth 26.03 WPPR points, which netted him a +4.83 WPPR point increase for the month and pushed him past Raymond on September 1st. For historical purposes, the IFPA snapshots the rankings as of the 1st of each month in our database.
Taking a quick trip into our historical records, the first month on record with a #1 ranked pinball player was June 1993. Rick Stetta had earned 2.12 WPPR points from his Pinathon victory, along with 2.12 WPPR points from his IFPA3 World Championship victory, putting him at 4.24 WPPR points earned. Rick Stetta finished 19 of the following 21 months in the top spot before Paul Madison began a #1 run that lasted for 36 straight months. In March 1998, that #1 position was overtaken by one Keith Elwin thanks to a victory at the PAPA6 World Pinball Championships.
Below is the complete archived list of players who have been ranked #1 in the world, along with the number of months they finished in that top spot:
Keith Elwin – 126 months
Jorian Engelbrektsson – 59 months
Raymond Davidson – 39 months
Paul Madison – 36 months
Rick Stetta – 19 months
Bowen Kerins – 13 months
John Miller – 12 months
Mats Runsten – 11 months
Zach Sharpe – 9 months
Jörgen Holm – 8 months
Cayle George – 3 months
Neil Shatz – 2 months
Lyman Sheats – 1 month
Johannes Ostermeier – 1 month
Peter Andersen – 1 month