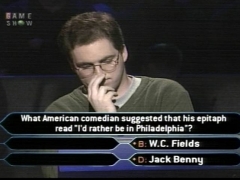 The IFPA is pleased to announce that our Player of the Month for April 2016 is Bowen Kerins from Salem, MA. Bowen earned an insane total of 394.96 WPPR points in April (along with 25 PAPA Circuit points for the sometimes 3-time, sometimes 5-time World Champion). This included the following results:
Bowen is currently ranked 11th in the world and is in the top qualifying position for the 2016-17 Massachusetts SCS, 2nd in Maine, New Hampshire, Pennsylvania, Rhode Island, Vermont, and 4th in Florida.

The rest of the top 5 for the month of April included 0-time PAPA World Champion Zach Sharpe from Chicago, IL with 371.23 WPPR points, Jim Belsito from Murrieta, CA with 308.01 WPPR points, "Sharpe-Dream-Crusher" Robert Gagno from Burnaby, Canada with 271.21 WPPR points, and "Other-Sharpe-Dream-Crusher" Daniele Acciari from Italy with 245.23 WPPR points.
Congratulations to Bowen and the other top WPPR point earners of the month!