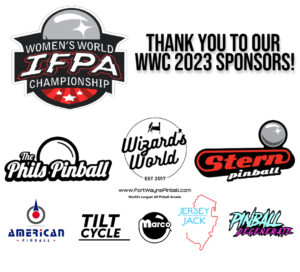 This year's Women's World Championship would not have been possible if it weren't for the many sponsors that came together to make this marquee event special.

Along with the generous donations from Phil's Pinball and Wizard's World directly into the prize pool ($3,000 additional funds), we would like to give a big thank you to Stern Pinball for donating a New-In-Box Stern Pinball (a $7,000 value!) to the champion!

We also received a number of donations from our other sponsors – Pinball Degenerates, Marco Specialties, Tiltcycle, Jersey Jack, American Pinball – including a Toy Story 4 Playfield, Game Banners, Shirts, and much more. All told, our prizes this year value over $11,000!

This couldn't be possible without the continued support of the pinball community to continue to develop and promote women in pinball.