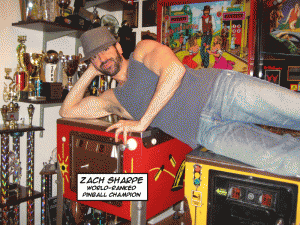 The IFPA is pleased to announce that for the second month in a row our Player of the Month for November 2013 is current World No.1 [player]Zach Sharpe[/player] from Chicago, IL. Zach earned a total 96.39 WPPR points in November, with a victory at the Dutch Pinball Open, and second place finish at the Southern Pinball Festival.
The rest of the top 5 for the month of November included [player]Trent Augenstein[/player] from Delaware, OH, with 89.56 WPPR points, [player]Jon Replogle[/player] from Pittsburgh, PA with 89.41 WPPR points, [player]Roberto Pedroni[/player] from Italy with 88.52 WPPR points, and [player]Marcus Hugosson[/player] from Vetlanda, Sweden with 82.34 WPPR points.
Congratulations to Zach and the other top WPPR point earners of the month!