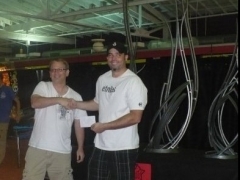 The IFPA is pleased to announce that our Player of the Month for August 2012 is [player]Keith Elwin[/player] from the US. Keith earned all 123.17 WPPR points during the PAPA 15 World Pinball Championships. His 7th/2nd/2nd finises in the three Classics tournaments combined with his 4th PAPA title in the last 5 years netted him the second highest WPPR point total for a single tournament in the history of the World Pinball Player Rankings (second to Keith's previous performance at PAPA 13).
The rest of the top 5 for the month of August included [player]Zach Sharpe[/player] of the US with 114.79 WPPR points, [player]Cayle George[/player] of the US with 95.97 WPPR points, [player]Bowen Kerins[/player] of the US with 78.21 WPPR points, and [player]Joshua Henderson [/player] of the US with 77.09 WPPR points.
Congratulations to Keith and the other top WPPR point earners of the month!