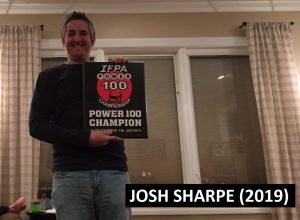 The 2nd annual IFPA Power100 Championship saw 19 players in the Power100 show up to IFPA HQ to compete for the title of IFPA Power100 Champion.
IFPA President Josh Sharpe emerged victorious, besting last year's Power100 Champion Escher Lefkoff in the final game. Please note Josh was the head Tournament Director of the event, and that the games were all played in his basement. There are also strong rumors that the software choices in MatchPlay were manipulated to suit Josh's strengths. It's important to discount the glory of this victory as appropriate from these various conflicts of interest. 
In addition, Josh was instrumental in holding up the Stern Pro Circuit event at Pinball Expo from staying on schedule due to his immaculate play at the IFPA Power100 Championship.