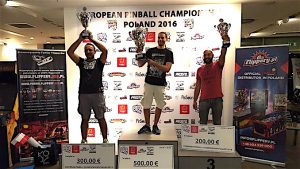 (photo courtesy of Gioco News)
The legacy for current World #3 [player]Jorian Engelbrektsson[/player] grew even greater this weekend, as he became the 2nd player in competitive pinball history to capture his 6th Major Championship (Keith Elwin is the only player with more – 9). With respect to the European Pinball Championship, Jorian became the first 4-time winner in tournament history, and has won 3 out of the last 4 EPC's. For Jorian, this was also his 11th top 4 finish at a Major, one of only 4 players in history to hit that double digit level (Elwin, Sheats, Kerins are the other 3).
After missing PAPA and IFPA in 2016, with this EPC victory Jorian jumps back into the discussion for the World's Greatest Pinball Player chase for 2016. Those results should hopefully be submitted sometime this week.
To view the most current list of Major Championship stats, click HERE.