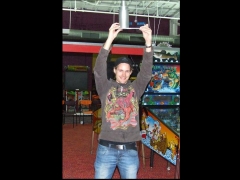 The IFPA is pleased to announce that our Player of the Month for May 2014 is current World Pinball Champion, [player]Jorian Engelbrektsson[/player] from Stockholm, Sweden. Jorian earned a total of 313.27 WPPR points in May. This included wins at not only the IFPA11 World Pinball Championship, but also the Pre-IFPA tournament at 1Up Lodo and the Lyons Pinball Spring Classic. Jorian is currently the top ranked player for the Colorado SCS, and is qualified for Pennsylvania(5th) and Michigan(13th), as well as currently sitting in 19th place in the inaugural ECS season.
The rest of the top 5 for the month of May included [player]Keith Elwin[/player] from Carlsbad, CA with 204.88 WPPR points, [player]Cryss Stephens[/player] from Pittsburgh, PA with 201.70 WPPR points, [player]Daniele Celestino Acciari[/player] from Italy with 192.13 WPPR points, and [player]Jerry Bernard[/player] from Patterson, NY with 148.77 WPPR points.
Congratulations to Jorian and the other top WPPR point earners of the month!