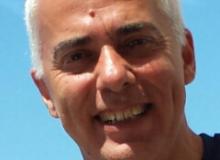 blog post courtesy of IFPA Italia
Fabrizio Amiconi (http://www.ifpapinball.com/player.php?p=23511), the champion of sports pinball that taught players not to put fun aside, died.
Mourning in the world of Italian sports pinball, which mourns the death of Fabrizio Amiconi. The Roman player, born in 1965, died after a long illness, which kept him away from competitions, but only up to a point. Yes, because he never really stopped playing, finding the strength to leave the house every time to go play pinball and participate in some competitions. Even when it was very difficult, if not even considered impossible. Like one year ago, when he surprised everyone by signing up for the "pinball at Waterfalls" tournament at the Marmore Waterfall, in the province of Terni, at a time when it seemed impossible even to see him outside his house. But no. Not for him. That, in addition to participating in the competition, he even won it, despite fightin with the leading champions, such as the four-time World Champion, Daniele Acciari. A performance that is remembered in history, and now more than ever it is set to remain an indelible memory for all the Italian players who have known and challenged it.
Approaching the official sports pinball competitions only in 2014, from that moment he started travelling around Italy to compete, sometimes even crossing national borders, proving to be a high level player and a real athlete. Able to put everyone in a good mood and bring fun in any competition. Another reason why his death upset the whole community, leaving a void impossible to be filled.