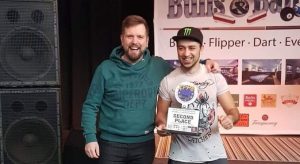 blog post courtesy of IFPA Italia
It was a weekend that will remain in the annals of the sporting pinball, Italian and international, the one staged at the beginning of February in Fulda, Germany. Where an authentic "Italian miracle" was made, with the triumph of the number two in the Italian ranking, Roberto Pedroni, who became the ECS 2018 Champion. Next to the other success obtained by Danny Iuliano, who won the second place in Fulda (only defeated in the final by Pedroni himself, in a final-derby that no one would have ever expected), he gets the ticket for access to the 2019 World Championship that will take place, however, in Italy. So the Italians in the World Cup race this time will be three: with Iuliano who becomes a member of the Italian national tricolor who will see him line up alongside Pedroni himself and our number one Daniele Acciari.
A resounding result, immense, that has gone beyond the odds. For Iuliano, in fact, it is a success obtained at his European debut, after he had gained access to the final Ecs 2018 thanks to the placement achieved in the final of the Italian circuit 2018 in late January. With a climb to success that is therefore worth access to the World. And if already the second place in the Circuit Ecs would have represented an extraordinary result already in itself, the fact that Pedroni arrived in front of him who is already on the list of World Cup participants 2019 of Assago, makes the story even more extraordinary and without previous.