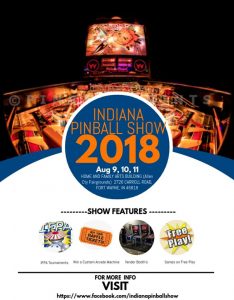 blog post courtesy of Mike Burgess
Huntertown Heritage Days is welcoming the inaugural Indiana Pinball Show and Tourney. "We're excited," said Mike Burgess, owner of Fort Wayne Pinball Wizard's World Arcade, located at 14613 Lima Road. "Huntertown has welcomed us with open arms and the community as a whole supported our team throughout our first season. We're proud to report that, as the host of multiple State and nationally recognized tournaments, Wizard's World Arcade has become known as one of the elite pinball facilities in the Midwest." Burgess reported that, "This is just one way we can give back to the community, while raising awareness of family fun and the excitement of competitive pinball in the area." The Indiana Pinball Show and Tourney will be held at the Allen County Fairgrounds in the Home and Family Arts Building from Thursday until Saturday during festival hours. A schedule of events includes multiple tournaments along with several pinball and arcade machines set for 'free play' throughout each day. Those choosing to play in sanctioned tournaments may qualify for state and world-wide ranking points. "Arcade related vendors will also be in attendance showcasing pinball machines, arcade games, coin-ops, and all the cool things you need to complete your game room, including neon signs, gas pumps, and more." Tournament winners will be awarded with trophies," Burgess stated.
Cost for the Indiana Pinball Show and Tourney ranges from Adults at $15 per day, kids 5-13 – $8 per day, and kids under 4 – Free. Burgess continued, "To celebrate 100 years of service by the Huntertown Fire Department, we are bringing in two Williams "Fire" pinball machines. Fire is a great game for firefighters as well as anyone who enjoys the firefighting theme. It's a family friendly machine that can be enjoyed by adults and kids. This is going to be fun and we're looking forward to aligning with the Huntertown community to offer this entertainment alternative for young and old alike." Along with finding additional Show information, advance tickets will be available for $10 and may be found at https://www.facebook.com/IndianaPinballshow/ or email indianapinballshow@gmail.com.