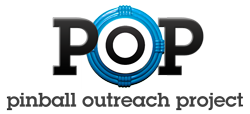 After sucessfully bringing back the Charity Challenge at IFPA10 following an 18 year hiatus, the IFPA is excited to announce that the Charity Challenge will again be featured as part of the IFPA11 World Pinball Champioship in Denver.
This year we will be teaming up the Pinball Outreach Project (POP). POP improves the lives of children by sharing the history and excitement of the game of pinball by bringing games directly to children in hospitals, schools and community centers. Click HERE for more details on their organization.
In addition to the funds raised at the Charity Challenge itself, we are also accepting donations via paypal and check/money order through the end of the month when we will crown the next World Pinball Champion.
To donate via check, please make the check payable to "Pinball Outreach Project", but mail to the IFPA home address, attn Josh Sharpe, at 545 E Thornhill Lane, Palatine, IL 60074. We will gather all the checks together and mail them off to POP when we're back from Denver.
To donate via paypal, please send money to "pinwizJ@aol.com". Please include your mailing address, and mention Pinball Outreach Project in the subject line so we can forward that information to POP.
Any questions please contact the IFPA at ifpapinball@gmail.com, and thanks in advance for your support.