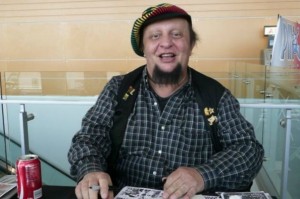 As some of you may know, Pinball Designer Python Anghelo has been in a long and costly battle for his life. Due to his chemo and radiation treatments over the last couple years he has been very limited in his ability to do his creative work. As you can imagine, this has put a severe strain on Python's finances and he is turning to the Pinball Community for help. You can read the full story and donate HERE.
On the heels of the IFPA Oursler Fundraiser Campaign which has helped generate thousands of dollars for the Oursler family, the IFPA would like to once again help by offering all tournament orgnaizers a chance to run an event to help raise funds for Python. Similar to the Oursler campaign, the IFPA plans on treating each of these Oursler tournaments as a unique event, worth full value WPPR points, even if a particular location is already hosting another annual event in 2014. Get in touch with the IFPA at ifpapinball@gmail.com if you're interested in setting up an event and we'll work with you on getting it added to the IFPA calendar. We hope to set up events nationwide and use competitive pinball as a way to help Barry and his wife out in this unfortunate situation.
Helping to sponsor the creation of these events is Pinball Inc. As part of the prize package for each tournament created, the winner will receive a $150 gift certificate from Pinball Inc. Click HERE to visit the Pinball Inc. website.