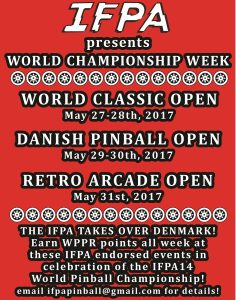 In celebration of the upcoming World Pinball Championship this June, the IFPA will be taking over Denmark with a WPPR point bonanza of tournaments for flipper fanatics to enjoy!
World Championship Week starts with the World Classic Open on May 27-28th (Saturday-Sunday) in Hvalsø featuring over 50 classic machines available.
Typically held in October, the Danish Pinball Open is the biggest annual event in Denmark. For 2017 they have decided to make this premiere event part of World Championship Week, taking place May 29-30th (Monday-Tuesday). This will be held at the same location as IFPA14.
Action will continue on Wednesday May 31st at the Retro Arcade Open in Glostrup with a collection of over 60 machines.
The formats will be qualification on 5 machines – 2 games on each machine. After that it will be player vs. player until a final 4 – best of 5 games. Full details for each even along with online registration will be available soon. Each event will be limited to 120 players maximum.
The 5th edition of the Epstein Cup where the 8 best players from Europe battle the 8 best players from North America will happen Thursday night, June 1st. Finally, Sunday, June 4th, IFPA's World Championship Week concludes with the crowning of the new World Pinball Champion.
For any questions regarding any part of IFPA's World Championship Week, contact the IFPA at ifpapinball@gmail.com.