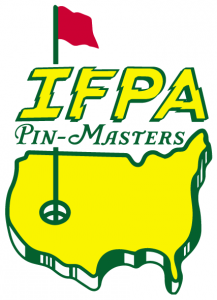 Standings have been updated after the second round of play.
Results for the 2015 IFPA Pin-Masters can be found HERE.
Live streaming is also happening HERE.
Top 16 make it to the final round Sunday, along with the next 4 best players ranked 250th or below to play for in the Novice Final. Finals starts at 9:45am.
Here are your 2015 IFPA Pin-Masters finalists:
NOVICE FINALS:
Travis Batty (53-51) = 104 *NOVICE FINALIST*
Craig Sengstock (52-54) = 106 *NOVICE FINALIST*
Jeff Rank (48-58) = 106 *NOVICE FINALIST*
Robin Lassonde (54-52) = 106 *NOVICE FINALIST*
MASTERS FINALS:
Johnny Modica (43-33) = 76
Zach Sharpe*** (35-43) = 78
Andrei Massenkoff (47-32) = 79
Josh Sharpe*** (41-39) = 80
Robert Gagno*** (41-40) = 81
Chris Basler*** (39-43) = 82
Paul Madison (43-41) = 84
Salem Ayoob (44-40) = 84
Karl DeAngelo (42-43) = 85
Jeff Gagnon (44-42) = 86
Tom Neighbors (53-36) = 89
Fred Richardson (48-43) = 91
Noah Davis*** (45-46) = 91
Derek Fugate (45-48) = 93
Jim Belsito (42-51) = 93
Phil Birnbaum (45-48) = 93