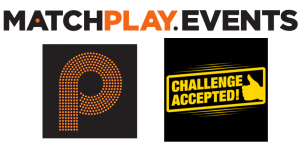 Back in April, we announced the addition of IFPA Challenge Matches starting in the 2018 season which would have an impact on the calculation of the IFPA Rating for each player.
Since then we've been hard at work finding the best way to implement these matches into our system, and we're excited to announce a collaboration with MatchPlay.Events to pull this off.
Rather than submitting these IFPA Challenge Matches through the IFPA calendar process, we will be directing players to submit those matches through the MatchPlay.Events website HERE. As long as your IFPA player ID is accurate on that site, we will be able to pull that data over to the IFPA website and link it to your account.
Beyond the IFPA Challenge Matches, MatchPlay.Events is launching Match Play Ratings. Similar to the IFPA Ratings system, this uses the Glicko algorithm based on direct play matches (not simulated matches based on end results that the IFPA Ratings system uses). One of our future initiatives is to pull that Match Play Rating as an officially endorsed metric on the IFPA side and integrate it into our system. MatchPlay.Events is also working on integrating results from other tournament apps (PAPA Scoring Software, PAPA League Manager and Drains Tournament Manager) to flow through their Match Play Ratings system, which will then flow through for us to use on the IFPA side of things.
To help kick this off we encourage both organizers and players to help improve these ratings by auditing the events included in the MatchPlay.Events database. There are currently test and non-pinball tournaments included in Match Play that need to be flagged for removal in the Match Play Ratings calculation.
More information can be found at: https://matchplay.events/live/ratings/info