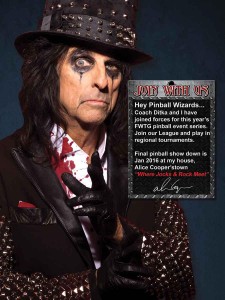 The IFPA and Gridiron Support are pleased to announce that the "King of Shock Rock" –
Alice Cooper, and his charity – Solid Rock – is once again teaming up with Coach Ditka's Gridiron Greats Assistance Fund for the 2016 "Flippin' With the Greats" Pinball Campaign.
Pro Football Hall of Famer – Mike Ditka and Rock and Roll Hall of Famer – Alice Cooper are excited to partner with the IFPA to raise money and awareness for their respective charities, while bringing the competitive pinball experience to their NFL and Rock & Roll Fans!
Once again, Players will be competing for WPPR Points, as well as
Tens of Thousands of $$$$ in Cash and Prizes, including a BRAND NEW PINBALL!!!!
The 2016 Flippin' With the Greats campaign will again consist of 2 elements:
A Fantasy Football Club where IFPA members can support their favorite NFL team (and win cool stuff) by simply buying an IFPA medallion Personalized with their name, IFPA number, and the NFL team they support. Great prizes will be distributed to FFC Participants throughout the season.
A Nationwide series of tournaments to be scheduled throughout the NFL season, culminating in the SUPER BOWL Pinball Party at Alice Cooperstown in Phoenix, Az.
Lots of Pictures from last year's event (with Alice in attendance!) can be seen HERE.
For Details on the FWTG Fantasy Football Club, including how to register, format, prizes and more, click HERE.
For Details on the FWTG Tournament Series, including registration fees, format, prizes and more, click HERE.
The Gridiron Greats Assistance Fund (GGAF) is a non-stock, non-profit 501(c)3 organization, providing financial grants and "pro bono" medical assistance to retired NFL players in dire need.  The organization focuses on the humanitarian side of post-football related issues, which include coordination of social services to retired players who are in need due to a variety of reasons including inadequate disability and/or pensions.
Alice Cooper's Solid Rock is a non-profit 501(c)3 organization.
Solid Rock Teen Center's goal is to make an everlasting difference in the lives of teens.
The Rock Teen Center provides a creative sanctuary for teens …"Allowing teens to build confidence and discover their passion through music, dance, self-expression & creativity"
Support and Follow our 2016 Flippin' With the Greats Pinball Campaign by joining our 2016 IFPA FWTG Hall of Fame Pinball Series "group" on Facebook, click HERE.
and "Like" Gridiron Support on Facebook at https://www.facebook.com/gridironsupport.org