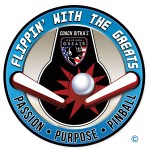 ANNOUNCING: 2016 IFPA "Flippin' With The Greats" Hall of Fame Series
Overview
The 2016 IFPA Flippin' With The Greats Hall of Fame Series was created to elevate the awareness and visibility of pinball by generating earned media coverage and corporate partnerships. Tournament organizers and participants will showcase pinball as a competitive sport, and as leisure time entertainment for skilled and novice players alike.
The IFPA has partnered with Alice Cooper's Solid Rock Teen Center and Mike Ditka's Gridiron Greats Assistance Fund to help to raise money and awareness for their respective charities, while bringing the competitive pinball experience to their Rock & Roll and NFL Fans!
Once again, players will be competing for WPPR Points, as well as tens of thousands of dollars in cash and prizes, including a brand new pinball machine.
The IFPA/FWTG Hall of Fame Series consists of two rounds: 1) Regional qualifying tournaments scheduled throughout the year across the country, and 2) a "Finals" round and Pinball Party hosted by Alice Cooper'stown in Phoenix, AZ. The finals round will be a two day match play (groups of 4) tournament (see "Series Final" below).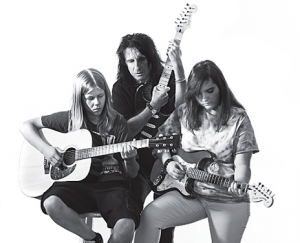 Solid Rock's primary mission is to make an everlasting difference in the lives of teens by helping them meet the spiritual, economical, physical, and social needs of at-risk teens (we believe all teens are at risk) in the community by offering a safe, engaging environment during non-school hours –a time when they are most vulnerable to drugs, violence, and gangs. Maintaining "a teen's worst enemy is too much time on their hands," Solid Rock provides the music, arts, vocational programs and fellowship that challenge teens to discover their passion through music, dance, self-expression, and creativity.
For more information checkout:
https://alicecoopersolidrock.com/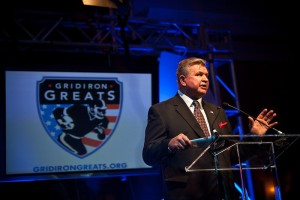 The Gridiron Greats Assistance Fund's mission is to assist dire need retired NFL players who were pioneers of the game and who have greatly contributed to the NFL's status as the most popular sport in America. Gridiron Greats Assistance Fund provides hands-on assistance to help retired players and their families deal with hardships they face after football. The services include medical assistance, transportation costs for medical evaluations and surgeries, housing assistance, financial assistance for utilities, medication, and coordination of services for food, automotive payments, and childcare.
For more information checkout:
Format and Schedule
The 2016 IFPA/FWTG Hall of Fame Series runs throughout the 2016 calendar year, with the tournament qualifying series ending in January 2017. 
The pinball format of the regional events will be determined by the tournament organizer. Please check the IFPA calendar for the details of the particular FWTG tournament you are interested in.
Suggested formats include: Strikes/Knockout, pingolf, single game high score.
All FWTG series events are eligible for IFPA/WPPR points.
Registration
Purchase of a Serial Numbered Gridiron Greats Medallion ($30) is required to register for each regional FWTG tournament.  Net proceeds from Medallion sales go to Coach Ditka's Gridiron Greats Assistance Fund and Alice Cooper's Solid Rock Teen Center. Each serial numbered medallion gives players an opportunity for future prize giveaways.
Example coins:
| | | | |
| --- | --- | --- | --- |
|   |   |   |   |
| Dan Hampton | Mike Ditka | Joe Green | Steve Largent |
Anyone may register to host an IFPA FWTG Hall of Fame Series Tournament in the same way as always via the IFPA tournament registration form:
http://www.ifpapinball.com/calendar/submit.php
Event Prizes
The number of prizes to be given away at each event will depend on the number of entrants.  Prizes will be given away to the winners or by random draw to entrants, at the tournament organizer's discretion.
Series Final
At the conclusion of the FWTG Hall of Fame Series season, qualified players will be invited to participate in the Series Final at Alice Coopers'town in Phoenix, Arizona. 
As a way to Raise the visibility and Promote the IFPA and the Community of Competitive Pinball, a number of Cooper'stown final event entries will be made available to Coach Ditka's Gridiron Greats Assistance Fund and Alice Cooper's Solid Rock.  The charities will have sole discretion on where and how to distribute these Entries, through their Fan Clubs, Media Outlets, Sponsors, Contests, etc., with the goal of getting maximum exposure and benefit for Solid Rock, Gridiron Greats, and the IFPA Pinball Community.
Provided 1000 total entries to the Series are sold, all players that compete in the Series Final have the chance to win a New Pinball machine (random drawing for all attendees, you must attend to win), other prizes will also be distributed to other entrants.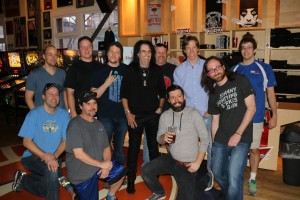 Prizes
Click HERE
-20 Invites to Alice Cooper and Coach Ditka's final Super Bowl / Pinball Party Event at Cooper'stown Sports Bar (Phoenix, Az.) to compete for a Brand New Pinball Machine.
-Reconditioned Pinball Machine
-Alice Cooper autographed "Hollywood Vampires" CDs
-Multi Signed Football – autographed by numerous Hall of Fame and Super Bowl Players
-Vintage Casino Slot and/or Video Poker Machines (for home game room use only)
-NOS Pinball Translites
-Autographed Football Collectibles
-Rock & Roll Memorabilia
-NFL Memorabilia
-Limited Edition Alice Cooper & Coach Ditka Collector Medallions
-Plus More !!!
NOTE: winners of LARGE prizes such as slot machines and pinball machines are responsible for paying shipping charges
First place series finishers may defer final party invite to second place finisher.
Other ways to enter
Help run tournaments! – all tournament organizers will receive an invitation (trasnferable!) to the Final Pinball Party at Alice Coopers'town.
In addition, 20 invites to the Coopers'town Hall of Fame Series Final (along with other great prizes) will be randomly awarded to participants in the IFPA/FWTG "Fantasy Football Club". For details click HERE.