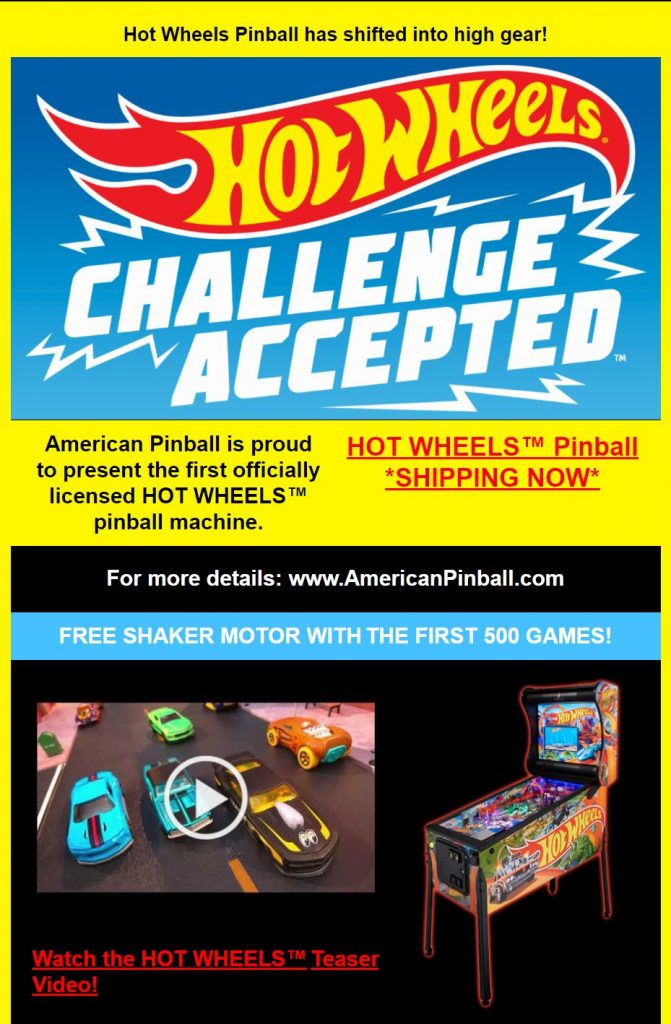 sponsored blog post
American Pinball is proud to present the first officially licensed HOT WHEELS™ pinball machine.
The exciting and fast-paced world of HOT WHEELS ™ comes to life under glass, featuring a dazzling array of gameplay objectives that will keep players of all ages racing back to play again and again.
There's Car Collecting and Races. Track Building and Crashes.
Epic Challenges, Creature Battles and much, much more !
Players will find themselves propelled into the middle of HOT WHEELS ™ CITY, a hit YouTube series entertaining millions of viewers with all the adventure and excitement taking place in the teeming metropolis. Besides some high-powered driving and racing, there are ever-present challenges posed by the villainous Draven and his army of relentless Creatures.
American Pinball captures all of the outrageous antics, thrills and spills with attention-grabbing footage from the series as HOT WHEELS™ drives a total pinball experience unlike any other.
HOT WHEELS™ puts players into the driver's seat to become the Ultimate HOT WHEELS™ Legend.
Players accelerate to take the checkered flag and earn VICTORY LAP MULTIBALL.
There's HOT WHEELS™ cars to collect for heart-thumping CAR CHAOS MULTIBALL and Super Ultimate Garage™
Players need to save the day when they take on and defeat Draven and the Creatures of HOT WHEELS™ CITY
Players will gear up to score with EPIC RAMPS, EPIC LOOPS, EPIC CARS and EPIC POPS
TRACK MULTIBALL keeps the action in high speed around every turn and loop
Revving the tachometer delivers increased scoring and the ultimate REDLINE MANIA
Players will be challenged to Collect Classic HOT WHEELS™ HERO CARS in order to become a HOT WHEELS™ Legend