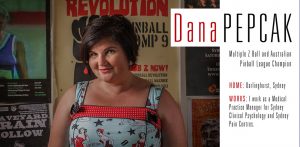 blog post courtesy of Marc Bell
On the eve of the very first Australian Women's Pinball Championship – just a day away and held on the Gold Coast – we at Game the System are very proud to present to you the latest in our Player Features – Dana Pepcak!
If you have played competitive Australian pinball in the last few years, or attended the long running Sydney Z Ball Pinball League, you would know the initials DNA – Dana Pepcak is arguably the most accomplished women's pinball player in Australian history.
Dana has not only won various league championships such as Z Ball and the Australian Pinball League, she also finished 2nd in the NSW State Championships behind the then Australian number 1 Richard Rhodes, and ahead of Australian number 2 Steven Edwards (and made Gary Stern sign her trophy, of which he was quite chuffed to do so!).
The competitive aspect of Dana's pinball play hasn't been much of a focus for her in the last year or so however, with the Z Ball league her one exception. But the good news is Dana will be attending her first major tournament in some time, and will be at the inaugural Australian Women's Pinball Championship which is just around the corner –
tomorrow
night in fact!
We wish Dana and all of the players good luck, and we hope you enjoy this new Player Feature on Game the System – a small departure from our usual format with an in depth interview included – just remember to scroll down!