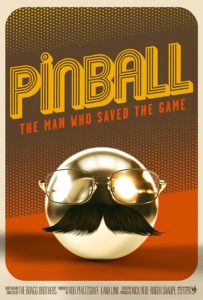 Hello! We are Austin and Meredith Bragg, two filmmakers creating a feature film based on the life of Roger Sharpe —  including his work writing Pinball! and his role in overturning New York City's 35-year ban on the game.
Full disclosure: We love pinball, but are not pinheads. In fact, we're not even very good players. But after spending the better part of a year interviewing Roger and hearing the passion he has for the game — we really, REALLY want to make sure we get the pinball history right!
Which is why we are asking for help.
We're on the lookout for period appropriate machines that could be used in the film. The more we can find and get to set, the better looking this film will be.
There are a few machines we know we need to keep the story accurate (EL DORADO, BANK SHOT, SHARPSHOOTER, and either PLANETS or ZODIAC are all must-haves). But we have a number of arcade scenes we'd love to fill as well.
Though any games from 1975 or earlier would be useful, Roger helpfully pinpointed a few specific titles meaningful to his story: HURDY GURDY, SUBWAY, MAJORETTES, HEAT WAVE, MOULIN ROUGE, COW POKE, STAR ACTION, SPACELAB, DARLING, SKY JUMP, SATIN DOLL, FIRECRACKER, and FIREBALL.
We're scheduled to go into pre-production in early September and shoot in New York's Hudson Valley between mid-October and mid-November. (We wouldn't necessarily need the machines for that length of time, but don't have hard dates quite yet.)
To be clear: this is an indie film. Our budget is healthy enough to make sure what we put on screen will be quality, but it's still a period piece — which are particularly costly. So we can't transport machines too far from the Hudson Valley on the project's dime.
What we can promise is gratitude, credit, and a film you can point to and say "they got it right."
We want to make a film the pinball community can be proud of. One that elevates the game and the people who made it. Any help you might be able to provide sourcing these machines would be huge.
Many thanks.
-The Bragg Brothers
Please email ifpapinball@gmail.com if you're interested in helping.