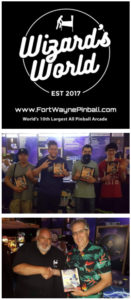 sponsored blog post
Andy Rosa topped the field of 108 Pinball players from 12 States Saturday during the WWW 3 annual Pinball Tournament held at Fort Wayne Pinball Wizard's World Arcade. Andy earned $1,700, a championship plaque and his name on the Wizard's World Wall of Fame. Andy lives in Flint Michigan and is currently ranked 29th in the world. Andy had 14 first place finishes (out of 24 possible) and had back to back sweeps in rounds 2 and 3.
Stephen Prusa from Cleveland Ohio, currently ranked 90th in the world, earned $1,000 and a runner-up plaque. Stephen finished the day with 11 first place finishes and swept 2 rounds.
Aleksander Kaczmarczyk earned $600 for a third place finish and a WWW 3 Plaque. Aleks is ranked 12th in the world and had 12 first place finishes and 2 sweeps on the day.
Jared August from West Bloomfield Township Michigan earned $400 and a plaque for finishing 4th. Jared is currently ranked 83rd in the world and finished with 12 first place games and 1 round sweep.
Sean Spindler from Madison Wisconsin earned 6 entries during the tournament for the new Stern Pinball Machine, Sean held the winning ticket and chose a Stern Avengers Infinity Quest. Sean is currently ranked 1,187th in the world and had 4 wins on the day including a round win.
By the numbers:
Over $12,000 in cash and prizes
$1,200 raised for Brave Dragon Ady
108 Players
50lbs Steak & Chicken Stirfry
42 players ranked in the IFPA top 1,000
22 players ranked in the IFPA top 500
12 states represented
8 State Champions in attendance
8 IFPA Power 100 Players
Now open 7 days a week! All ages welcome.
Mon Noon – 11pm
Tues Noon – 9pm
Wed Noon – 9pm
Thurs Noon – 9pm
Fri Noon – 10pm
Sat Noon – 10pm
Sun 1pm – 9pm
Find a listing of current machines here:
https://pinballmap.com/indiana?utf8=%E2%9C%93&region=indiana&by_location_id=9351
#Stern #SternArmy #RetroArcade #WWW3
#SternPinball #FortWayne #Indiana #Huntertown #Pinball #Arcade #PinballMachine #PinballWizard #bellesandchimesfortwayne #americanpinball
www.fortwaynepinball.com
www.wizardsworldpinball.com