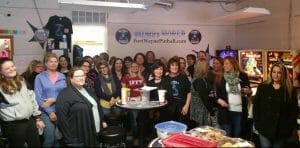 blog post courtesy of Mike Burgess
Saturday February 3rd, 32 Women from across the midwest, ages 11 to 70, battled it out in a 12 round three strike knockout tournament to build points toward 8 wild card invitations to the 2019 Women's World Championship.
Danielle Alexander from Lafayette Indiana, whose home arcade is Main Street Amusements, claimed the Championship by besting Shannon Egnor, whose home arcade is Fort Wayne Pinball Wizard's World, in the sudden death winner take all 12th round.
Kelsey Irmiter was the only player to hand Alexander and Egnor a loss before the finals, was knocked out of the tourney by losing her three games against the top duo (2 losses to Egnor and 1 to Alexander). Irmiter had the longest winning streak of the day at 6 games.
In the battle of the bottom (first four out of the tournament) Priscilla Burch won the title of the biggest loser.
A lot of Pinball and great times were had by all participants. Over 
$200
 in cash and prizes were handed out to the winners.
Our next Women's Tournament is 
Saturday March 3rd at 1pm.