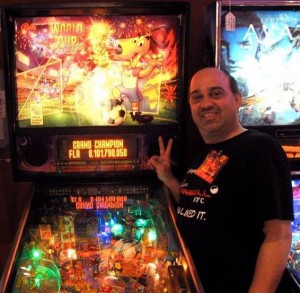 blog post courtesy of Francesco La Rocca
FLR: who is he?
Francesco La Rocca, a guy from Italy that moved to the USA in 1996!
At that time NYC had one of the saddest years regarding pinball: The Famous Arcade on Broadway closed and pinball (for the most part) disappeared. Francesco, who had moved to Brooklyn, went around but couldn't find a game that he loved since he was a kid!
After many many years in 2010 while playing Backgammon on the internet he met Joe Oesterling, a guy in New Jersey that also in his profile said he was playing pinball! So Francesco approached him and he told Francesco about a league going on in Dunellen, NJ and one in NYC. So immediately he went to search and after he found the person in charge of the league in NYC (Bob Sovatsky) he joined the league where he met lot of people that still now play together with him and a little while after that he played the 1st tournament at the show in Allentown, PA where at that point one of Francesco's favorite machines was released: Iron Man. After that Francesco realized that someone needs to make pinball more visible and thanks mostly to the "Don" of pinball in NYC, the famous Pinaholics Allen Cihak that had pinball machines in bar and pizza places, started to organize tournaments and his own league in Brooklyn together with Joe Said! Between 2011 and 2013 Francesco started to travel all over the USA to play in tournaments hitting over 70 events and 20 different states, including one tournament in his house on his favorite machine World Cup Soccer that he owned for a while along with Avatar (thanks to Joe Said that he had to move and so wanted someone to "take care" of them)! On the same year Kris Medina in NYC had the brilliant idea to combine people together to form teams on a Monday night and play pinball together: Pinball NYC brought pinball everywhere in the city and still now is one the the most important thing in the city to gather people to play pinball in different bars and locations in 3 boroughs and FLR has never missed a season and has won multiple times with his team.
Then at end of 2013 something big happened in NYC. A few of the people that Francesco had in his tournaments decide to put together their money, skills, knowledge and everything to bring back pinball to the city and no one could imagine that the owner of THAT Arcade on Broadway would be one of them: Steve Epstein founder of the IFPA. He and Steve Zahler, co-owner and a top player in the world, Allen Cihak provider of the pinball machines, Alberto Santana who used to work in that Broadway Arcade and Eddie Cramer, master technician and restaurateur, with his wife Dahlia, master of themed parties, and Francesco himself put their lives in that place that is also now the IFPA HQ in the world: Modern Pinball NYC, a place with over 30 pinball machines where you pay one price to play all of them with no coins or tokens required!
IFPA: The objective of the International Flipper Pinball Association (IFPA) is to elevate the awareness and visibility of pinball across the globe and generate media coverage and corporate backing to bring the sport of competitive pinball back into the spotlight.
Who could do that?
In 2014 Francesco went to his limits and beyond to become "Master of Tournaments" if such a title existed!
Last year Francesco played in 110 tournaments (using all possible formats!) and in those he met 1700 players; he directed 60 of those tournaments in NY, NJ and MD and on his own tournaments 200 different players were present and 65 of them were introduced for the 1st time to an official tournament. At least half of those players had their best tournament in terms of WPPR points during one of his tournaments.
Francesco was able to bring competitive pinball in over 30 new places in NY or NJ.
His life, his weekends, his food, his drink they all revolve around one simple word: PINBALL
2015 started with a big goal for Francesco: making the Modern Pinball Super League the Best in The World!
Francesco, with the help of the people working there at Modern Pinball and with Koi Morris, Steven Bowden, Frank Romero, Joe Said, Ken Rossi, John Ehlrich owner of Reciprocal Skateboards and Jackbar, and the huge Pinball NYC community, is very confident he will succeed.
Happy Pin 2015
Few Statement of few of those people :
Steve Zahler Co-Owner of Modern Pinball NYC
One of the first tournaments I ever attended was run by Francesco at the now defunct Satellite Lounge in Williamsburg Brooklyn (now "Jackbar"; a fantastic bar and great place to play pinball). Francesco is a truly dedicated pinballer and his love for the game is evident from participating in countless tournaments around the country to running the majority of pinball competitions in the tri-state area. He has introduced pinball to numerous individuals and has engaged them through his contagious enthusiasm. It is this reason I approached him to join us at Modern Pinball NYC. Thank you for all you have done and continue to do to in the name of resurrecting this fun activity and beloved American pastime."
This is sincere Francesco, thanks.
Steve Epstein Co-Owner of Modern Pinball NYC
Starting Modernpinballnyc is an important undertaking trying to bring pinball to a new player, young people of all ages, whom may by the time they reach maturity may never see pinballl in all its glory. The team including our general managers Francesco and Alberto and techs Eddie and Pat are key to this endeavor. I want to thank them for their dedication and passion that will make modern a huge success.
Koi Morris President of Jersey Pinball Association
There are few people that I know who are more dedicated to pinball than Francesco. He definitely gave his all in 2014 when it came to participating in and running tournaments and promoting pinball. I'm sure he'll continue to do the same for 2015 and beyond.

Steven Bowden President of JPA Pingolf
Francesco La Rocca is advancing pinball forward.
Greg Poverelli NYC Pinball Player
Yes thank you as well Francesco for all you did for pinball this year! Must have run more tournaments then anyone else in the world by a large margin.
Debra Rymer NYC Pinball Player
Thanks Francesco for doing all you do to promote pinball and run tournaments. I think people may not say enough how much this is appreciated